Entree
All Entrees gluten free unless otherwise noted
Juicy, tender, and full of flavor.
Our Pulled Pork is sourced from local butchers and hand selected. Made from Pork Butt (Its the shoulder) this large cut of meat is slow roasted (On Location) until it literally pulls apart, this can take many, many hours. Can be served on its own as the star meat, or placed on a bun, slathered in BBQ sauce and topped with slaw. Think Hamburger, but with more awesome!
Slowly smoked to perfection
Our Beef Brisket will be gently smoked for many, many hours to transform this into one of the juiciest and most flavorful cuts. Sliced fairly thick, these long skinny slices are served with just a thin drizzle of one of our sauces. So unbelievably tender and so much beefy goodness, hard to ever say no to brisket with that fantastic bark!
Fred Flintstone would be jealous of these babies. Once again, the low, slow and steady smoke, transforms these into soft, juicy, fall off the bone morsels of deliciousness. Tasty bark, beautiful smoke ring and mouth wateringly soft texture, is one rib ever enough?
So tender, so Juicy, So good
Pork ribs are a fan favorite, slowly smoked to perfection these will not disappoint. Choose your sauce and find a corner to hide in, they are sticky saucy and downright amazing. Choose from Baby back or St Louis.
Crispy on the outside, juicy on the inside
1/4 Chicken pieces roasted on our smoker to a beautiful finish, choose from herb, garlic or jerk. Or mix and match to please the entire crowd.
Fresh from the butcher to our smoker.
Fresh from the butcher, these sausages are an excellent compliment to any of our entrees. Flavors dependent on the available fresh supply.
This aint your average Turkey
Smoked turkey is not your average turkey, supple hints of smoke add a touch of intensity, but the mellow familiarity of turkey finishes off for a smooth satisfying flavor.
Slowly roasted and hand carved
Baron of beef (AKA Top Sirloin) cooked to a beautiful medium rare is definitely a crowd pleaser. Roasted to perfection with a beautiful char on the outside, these beasts go a long ways.
Prime Rib, just saying it makes the mouth water. These beauties are rubbed down with our secret herbs and spices and smoked to perfection. Its hard to match a prime rib dinner!
Meat on a stick, why not?
Kebabs are an excellent choice for those with a diverse crowd. Available in Pork, Beef, Chicken and Tofu, ( or mix and match ) they offer an excellent choice for those with special requirements.
For those more intimate affairs
Send us a message, we are happy to customize for those with smaller parties.
Cheese, potatoes, more cheese.
There are many names for this ultra-rich, ultra creamy potato classic. Whatever you want to call it, this cheesy side dish is a guaranteed crowd pleaser & compliments virtually any meal.
Green Brussel sprouts with Bacon
The title says it all. These properly cooked & accompanied veggies may give you a whole new perspective on these underappreciated morsels. If you're still not sold, no worries. They can be swapped out for green beans instead.
A delicious twist on a classic
Don't let the title fool you. These are not your average spuds. The addition of crispy smoked bacon, tender kernels of corn, fresh cilantro & a refreshingly light dressing sets it apart from the old school version.
BBQ's and Baked Beans. They just fit.
Whoa Nelly, can baked beans seriously taste this good? You betcha! The addition of a few key ingredients elevate this BBQ staple to a savory, sweet & smoky delight.
This classic side dish is simple, comforting and truly satisfying – especially alongside chicken or pork.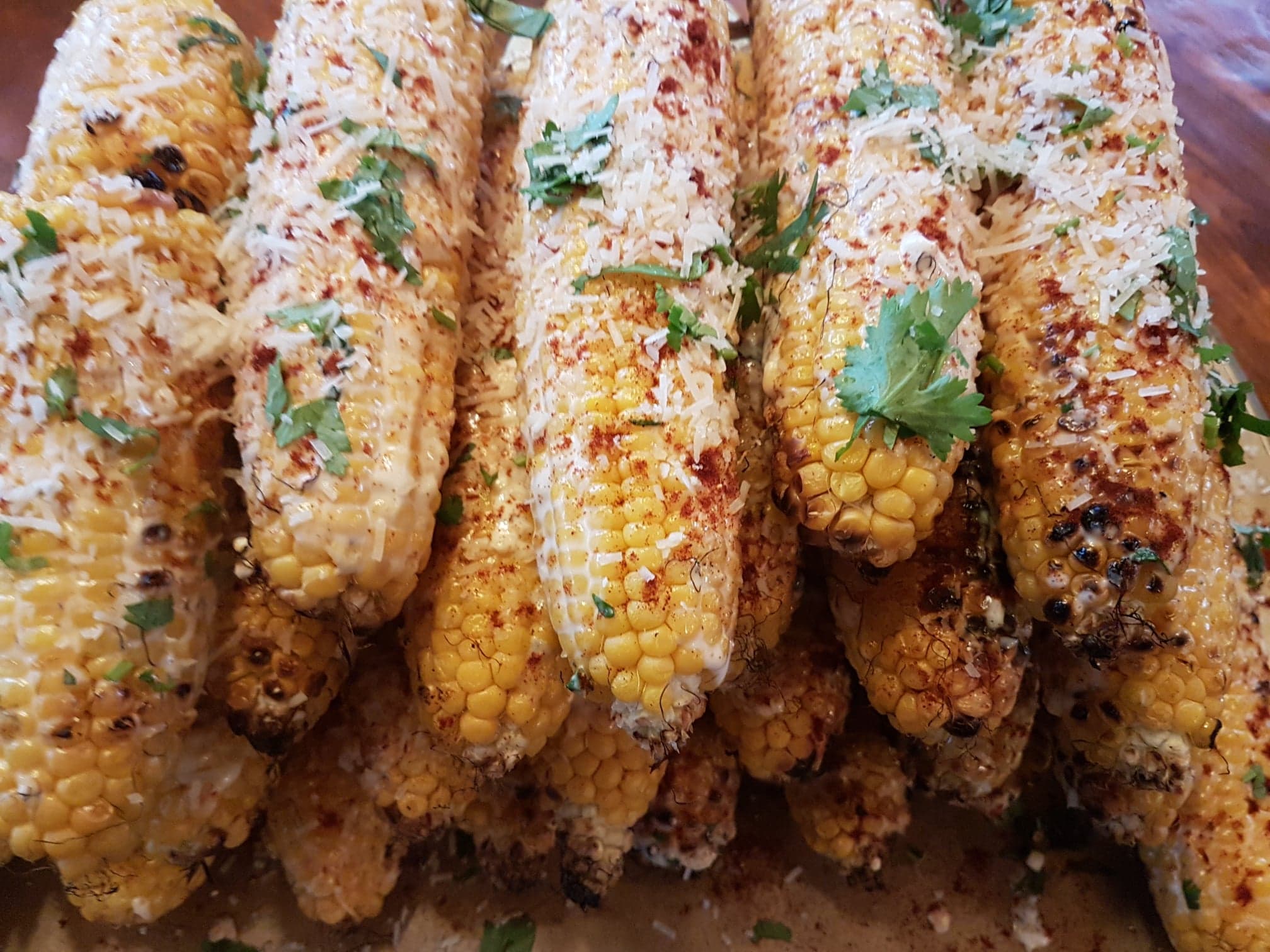 Try this version of corn on the cob once and you'll understand why we consider this to be the best way to serve corn, hands down. Cobs are charred on the grill, then slathered in a creamy spiked sauce with a final squeeze of lime.
Common pasta salad dish – nothing super fancy. Just the delicious comfort food you remember growing up with.
Coleslaw with a jalapeno kick
Spiked with vinegar and spiced with mustard, our version of coleslaw is the perfect topper to a pulled pork sandwich, but hold their own as a stand alone side dish.
Beer and Bacon Mac and Cheese
No KD here. Our signature recipe incorporates liberal bites of smoky bacon, fresh thyme and a hearty stout cheddar sauce. Creamy and amazing!
One of the most popular of all time & always a winner. Tender leaves of romaine and croutons dressed with lemon juice, olive oil, Worcestershire, garlic, Dijon & Parmesan.
A base of leafy mixed greens accompanied by varied seasonal veggies.